My friend and I went on a nice four mile hike up in Muir Woods near Marin County. We took the Hillside trail to the Dipsea trail, which is inappropriately named due to it's lack of sea. The hike up to the "summit" was rather strenuous - it was my cardio workout for the century. We sat in a nice grove of redwoods and ate our tofu and organic greens spring rolls and sesame seasoned tofu slices we purchased from Whole Foods. It was delicious.

The weather was perfect for a hike, slightly overcast and cool (which is nice when you feel like a marathon runner walking up a hill, heh). There were banana slugs galore and mule deer who seemed unperturbed by our presence. The initial portion of the hike requires going through the main Muir woods trail - my goodness, I am not sure how anyone can enjoy nature with a hundred other people. Thankfully, we knew none of those people were planning on a four mile hike. We breathed a huge sigh of relief when we reached the portion of the trail and the only sounds to be heard were woodthrushes, starlings and woodpeckers. It was gorgeous.

And can I just say I adore trees? I do. A lot. Being amongst trees several hundred years old is amazing and humbling. Redwood trees, firs, and bay trees dotted the landscape - it was a stunning panorama.

Of course I took pictures, though the deer pictures turned out quite horribly...as did my attempt at landscape. I am much better at close-ups, of which there are plenty. :)

Please enjoy!









This mama and her two fawns were literally five feet away. None seemed particularly impressed with my camera flash.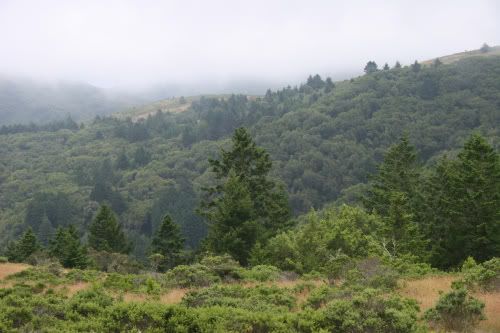 This is the vista after a two mile hike up the hill.
A lovely babbling brook running through the park. My friend showed me a rock from the stream - it had several different types of larva. Apparently, when these certain larva are present, it indicates a healthy stream. There you have it. A healthy stream.
Okay, that is it for more general photos. The rest are all closeups of flowers and such. :)
Seeds ready to burst.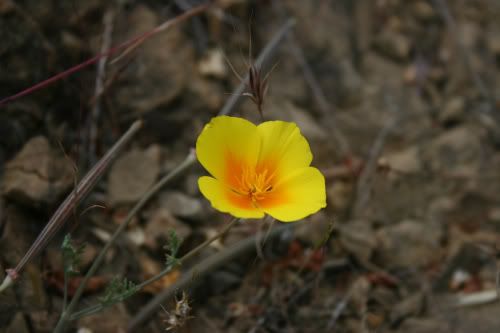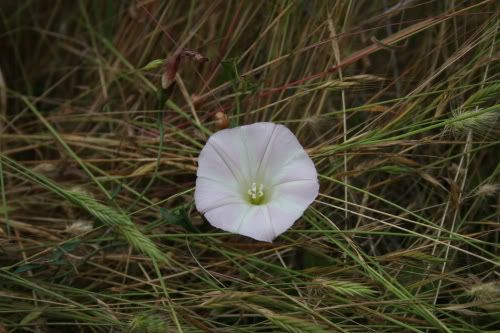 We could not ascertain if this flower was of the morning glory family or the nightshade family. Oh well, it is gorgeous.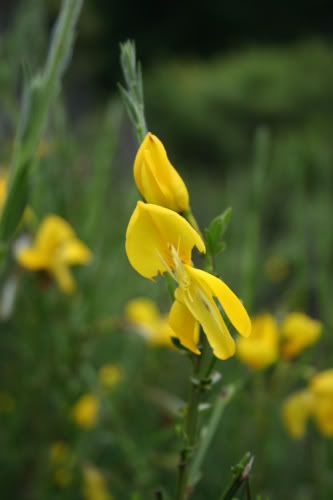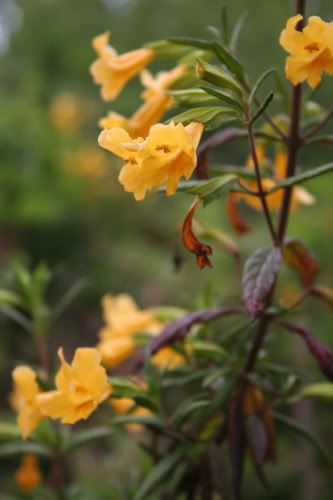 We established this plant had to be related to honeysuckle after we sucked out the pollen from a picked flower. The flavor is sweet and succulent, but oh so fleeting. You would have to suck the pollen from an entire bush before you could truly appreciate the taste. We didn't do that, by the way. :)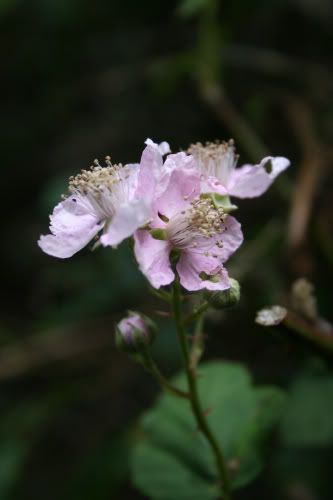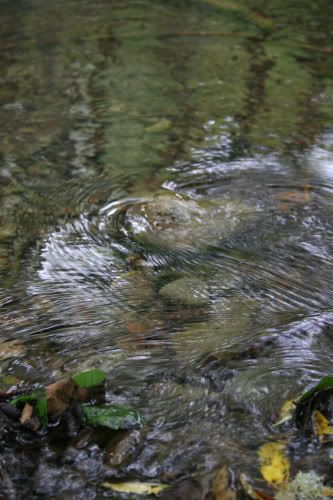 I tried my hand at some moving water shots. Not sure how I feel about it, but I do love the texture in this one.
The leaf on the left is a bay leaf. The aroma of a copse of bay trees is hard to explain, but incredibly soothing to experience.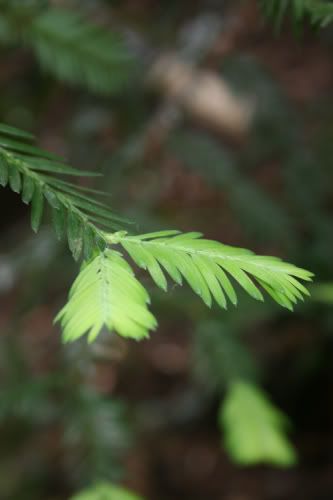 New growth.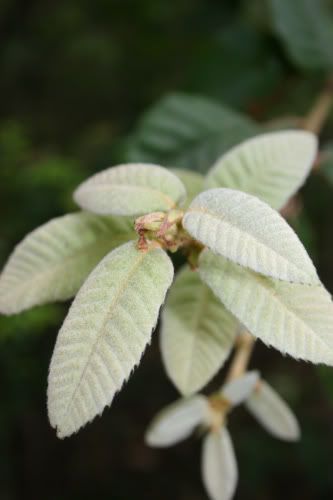 More new growth.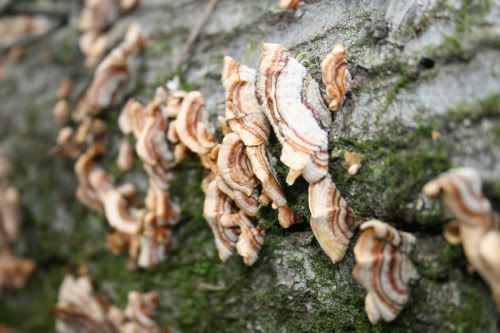 Yay fungus. Fungus, unbeknownst to me, are really cool. :) My friend shared some of her knowledge with me. Fungus only feeds on dead or dying trees. If you see a lot of these little buggers on a tree, you know the tree is dying (or already dead). These were on a fallen limb and were working diligently at eating the decomposing tree. It will take them a super long time, but they will actually consume the rest of the dead tree.
Another type of fungus.
And for my grand finale: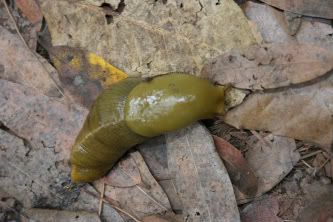 No, that is not scat, that is a banana slug! Yay for slimey, yellow-green slugs! I heart them a lot. :)