OF DOOM.



I am scary. Fear me. See my frightening claws? I use them to gouge out little children's eyes. And steal their ice cream! That pink nose? Well, it is a doom-and-gloom sort of pink nose. That's scary in of itself.



You clicked because you do not fear death. Or vicious pit bulls. Good for you.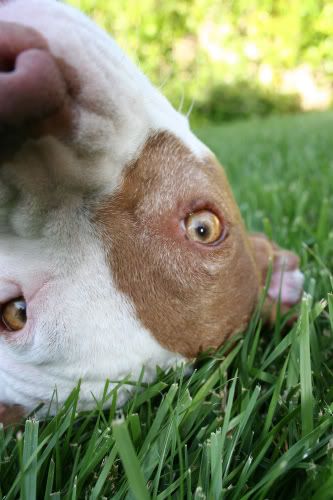 And these eyes? They are super-duper hard-core vicious. They are amber. That is just plain unnatural. And those blades of grass? Come on, we all know grass only bows down before the greatness of evilness (and heavy objects). But, Mina is not heavy, so she must be great.
Hey Marji (that's me), have I told you that you are a freak? I have? Well, let me tell you against - you are a freak. I love you because of this, though, so keep up the good work. But put away the camera, please, because it is super annoying. I will start to poke you with my nefarious pink-nose of DOOM if you don't put away the camera. *poke*. *poke*. *poke*.
Mina is love.