We decided to update our dangerous dog laws because a Cocker Spaniel walked into a tethered Pit Bull's yard and was killed!

We're not banning any dogs or trying to beat up on pit bull owners, but we need to emphasize the HORRORS of a loose dog getting killed by a tethered dog on the tethered dog's own property - especially since the tethered dog is a ZOMG! pit bull.

It's great they're updating their ordinances, but it's for a silly reason.

In other news, Plymouth, Michigan is backing down from a proposed pit bull ban. The ban was suggested after, get this, a pit bull's family moved into a neighborhood. That's right, not because of an attack, threat or because the pit bull is really a clone of Cerberus, but because the dog looks like a pit bull. And that's enough.

In OTHER OTHER news, we took in a goat...who was being transported chained in the back of a pickup truck. *cringe*

The story? I received a desperate call from a rather irate, upset woman. Her "beloved" goat was about to be shot by...her husband. For? Jumping the fences. Usually we say no to these cases (it's not a factory farm/cruelty case, it's an unwanted "pet"). And I was about to, until I heard the husband in the background talking about chopping him up and freezing the parts. It was just...creepy. Farm Sanctuary wouldn't take the goat (even though the goat is actually from orland), and so I talked to the staff and the boss-lady. We all agreed to take him and, at the very least, find him a home.

When I asked how she was transporting the goat, she said "oh, he's been tethered all day in the back of my pick-up truck". Wa-huh?!? We decided to meet her halfway, to limit how much time the goat spent in the back of the truck (Orland is like 2-2.5 hours away from us, and it was already 2:30...we just didn't have enough time for a 4-6 hour transport). We met her at a rest-stop on Hwy 5 near Dunnigan (where pig farmers offer you 20 k for your rusy trailer and shotgun shells litter the ground at gas stations). It was a pretty easy switch from truck to trailer. The goat is currently settling in at the sanctuary - I'll take pics next week. He was too stressed for a photo shoot, gotta give him time to settle in.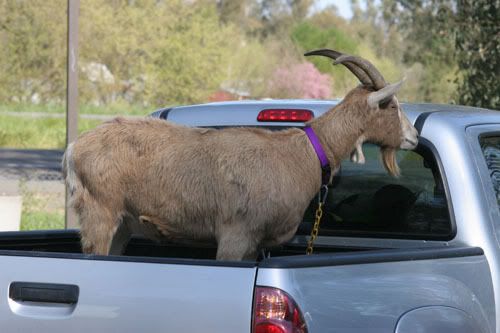 This is NOT how you transport a goat, just fyi. Please do not EVER transport a goat this way.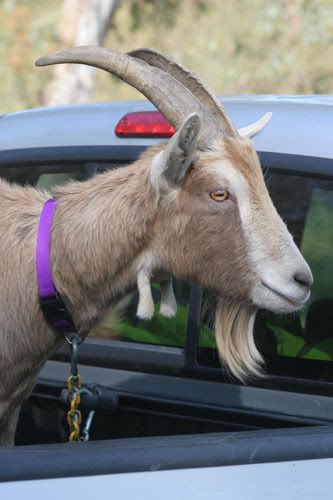 I is handsome, but I is not belong in back of pickup truck. Thanx.