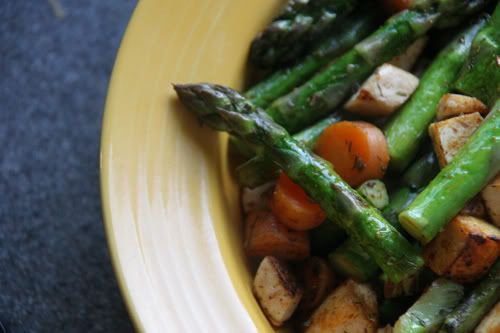 Okay, I know a stir fry isn't rocket science, so have fun. Play around with the kinds of vegetables, try onion instead of garlic, different spices, etc. ad naseum. But if you care to know what I created, here's the guestimates of what I put together. The end taste is spicy-lemony-tasty goodness. The rhubarb is a nice little surprise (if you like anise/licorice). Probably good over rice or with a curry.
Ingredients
1-lb firm or extra firm tofu, drained and cubed
2-3 garlic cloves, chopped
2 Tbs. rhubarb, diced
1/2 - 1-lb asparagus, cut into inch-long pieces
4 carrots, sliced
1/4 tsp cayenne pepper
1-2 tsp. dried oregano
1 tsp. dill (fresh or dry)
1/2 tsp. salt (or to taste)
1-2 Tbs. hot sauce (more or less, depending on your taste-buds)
Juice of half-a-lemon
Oil for cooking (I use safflower)
Directions
Heat oil in frying pan on medium-high heat. Add chopped garlic and diced rhubarb, cook for two minutes. Add in tofu, cooking until some cubes start to brown, eight to ten minutes. Toss in asparagus and carrots. Cook until carrots and asparagus soft, another 10-15 minutes. Remember to toss or stir frequently! Add cayenne pepper, oregano, dill, stir to coat. Add hot sauce and lemon. Serve as is, over rice or with your favorite curry. Yum.
Another picture. Because I can.