See our newest rescued birds! KGO 7 did a nice, short story on the rescue. :)

From our blog: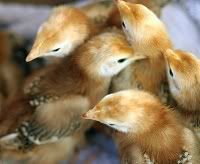 Twenty-five day-old chicks born in a hatchery in
Iowa
made a long journey via the postal service to a home in
California
. Upon arrival, seven of the chicks were dead. The recipient claimed to have never bought the birds, and the hatchery refused to take them back.
Silicon Valley
Animal Services took in the birds but realized quickly they were not equipped to handle 18 cheeping, needy chicks. They called Animal Place and we agreed to take them.

Young birds cannot regulate their body temperature effectively. It's why they need a mom. Right now, the baby birds are being kept in baby pens with special heating pads to keep them warm.


It is to tragic and tiresome hearing these stories of people buying birds and having those birds shipped through the postal service. In May, 2008 500 "peepers" (industry term: broilers) were rescued by Oakland Animal Services after fifty arrived dead and many were in distress. Thirteen of them came to Animal Place. These birds are lucky. Every year, thousands of baby birds die while being shipped through the mail.


The regulations required to ensure a dog or cat is transported safely do not apply to poultry, and mortality is considered unavoidable. We would not tolerate that treatment with dogs and cats! The postal service has shown an unwillingness to ensure the safety and well-being of the animals they ship. Animal Place encourages people interested in poultry to adopt birds from their local shelter or sanctuary. Never allow living, sentient beings be shipped like they are inanimate objects.