Took the dogs to the new sanctuary property in Grass Valley. They were full of off-leash awesome. Celeste would seriously make a very good ranch dog.

There are some horses grazing on part of the property. They aren't ours, which is tragic, because hanging with them made me want to be around horses again. They are just so amazing.

This was Celeste's first time meeting horses. Mina is a horse pro and considers them almost as interesting as a tree stump.

This is their first meeting through the fence.



Then Celeste dipped under to investigate further. She realized the error of her ways when two of the horses gently nudged her back out. No amount of nudging could convince Mina she didn't have a right to be there.

Here is a horse attempting to chase Mina off, with Mina not giving a fuck and another sanctuary staff member distracting the horse.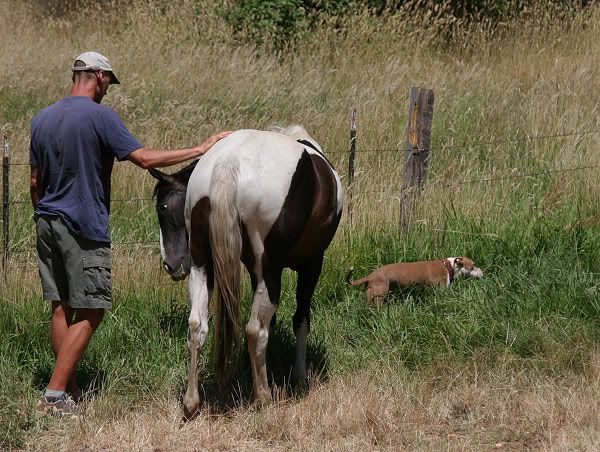 Mina also got her first fox tail and it cost $233 to remove it from her nose. I had a minor panic attack when she snorted up blood. She is full of woe right now and snoozing on the couch. I suppose one fox tail in 10.5 years isn't a bad record.